Big Bend Historical Society Museum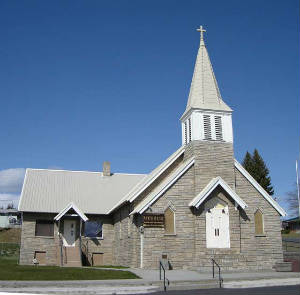 For years, the Big Bend Historical Society Museum in Wilbur has been providing visitors a glimpse into the past with an ever-growing collection of antiques and memorabilia. The museum, which features artifacts from Wilbur, Creston and Almira, is located in the old Lutheran Church in the northwest part of town, behind Sandy's Family Foods. The Society has been re-painting the rooms in 2013, so some displays could be unavailable until the project is complete.
One of the most popular displays is found in the Photo Room, which features a wide assortment of photographs of the early town, its neighbors and its pioneer families. The School Room depicts an early country school and features donated items from the original Creston and Sherman schools, along with class pictures from many of the early schools in the area.
Local veterans have donated military uniforms, pictures and memorabilia to the museum and now it is all on display in the new Armed Forces Room. Old newspapers cover the walls giving an historical account of past wars that the United States military personnel served in.
The museum vault contains copies of all the old Wilbur Registers, dating back to 1889, as well as records from many of the early-day churches and schools of the area that are no longer in existence. While the early issues of The Register are in delicate condition, they have all been microfilmed and a microfilm reader and printer are available for the public's use.
The Children's Room contains antique toys, dolls and children's furniture. The Farm Annex Building contains numerous farm implements from the early days, including a 1915 tractor (one of the first in the area) and a 1938 Caterpillar tractor. The Wilbur Gem and Mineral Club has a display in the building featuring rocks, gems and minerals of all sorts. A more recent display features cattle brands once used by many area residents.
Household items, furniture, clothing, an extensive bottle collection, radios dating back to a 1920 two-tube Crosley and a 50-state plate collection, can be seen at the museum.
The escaped outlaw and murderer Harry Tracy, who died from a self-inflicted gunshot wound at a farm east of Creston in August, 1902, is featured in a display, as is Wild Goose Bill (Samuel Wilbur Condon) – the town's colorful founding father. The Condon display includes the gun taken from his hand following his death in a shoot-out in 1895.
Before his death, Jack Condon of Coulee Dam donated the handkerchief that his grandfather wore around his neck at the time of his death, as well as the bullet that killed him. The bullet was taken from Condon's body before it was buried at the Wilbur Cemetery.
The museum is open June through August, Saturday only, from 11:00 to 2:00 p.m. Those wanting to visit any other time can make arrangements by calling 509-647-2460 or email mlewelyn@centurytel.net The museum is also open for a special presentation during Wild Goose Bill Days, the third Saturday in May.
The Lincoln County Museum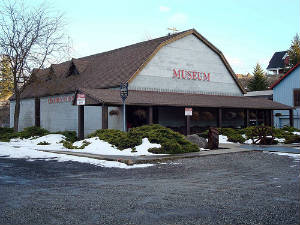 Located at 600 7th St., just one block south of the main street in downtown Davenport, is filled with antiques and collectibles. It is open from May 1 through September 30, from 9:00 a.m. to 5:00 p.m., Monday through Saturday, also serving as a Visitor's Center for Lincoln County. From October 1 – April 30 it is open by appointment only. Call 509-725-6711 to make arrangements.
The museum has rooms containing time-line displays, showing the heritage of Lincoln County and what brought settlers here. It continues up through the fur traders, miners, loggers, cattle ranchers, grain farmers and orchards and includes rural schools, dams on the Columbia River, electrification of the area and sports in the local schools. Glass cases display unique items from the past that have been donated by area residents, including displays featuring Pioneer Pop and the Mitten Café.
A "General Store" offers a glimpse of the past, including old boxes, containers, phones, household appliances and bottles. A visitor may feel as if he is shopping circa 1900. A large glass display case features antique and collectible dolls.
There are scrapbooks for visitors to look through filled with keepsakes and memorabilia from people who have lived in the area. The museum also holds an antique bedroom display and clothing cases featuring beautiful women's clothing circa 1890.
Many visitors are intrigued by the Harry Tracy display, which features an assortment of items relating to Tracy, a one-time outlaw who killed himself before he could be captured by a Creston posse in 1902.
An extensive photo display attracts many visitors. Copies of the photographs are available for purchase. There is a Native American display and a farm equipment building just outside contains antique machinery and farm equipment.
The Davenport Historical Society provides many educational opportunities for children and adults. Visits by elementary school students to the museum include a demonstration of pioneer skills and hands-on programs with artifacts from Lincoln County. School groups ages 4th grade and up, with no more than 15 or 20 students, are welcome. For more information view their town website at www.davenportwa.org and follow the link for local tourism.
The Colville Tribal Museum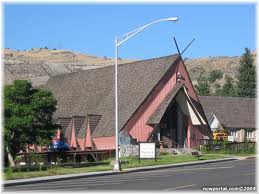 This Museum re-opened in 2011 with newly renovated exhibits. Its new hours of operation are Tuesday – Saturday 9:00 a.m. – 6:00 p.m. It is located at 512 Mead Way in Coulee Dam near the casino. Large groups are encouraged to make reservations at least two weeks in advance. No admission fee is charged, but donations are gladly accepted. For more information call 509-633-0751 or e-mail ctmuseum@couleedam.net.
Founded in 1987, the Colville Tribal Museum provides a valuable link to the rich heritage of the peoples who make up the Colville Confederated Tribes: the Lakes, Okanogan, Entiat, Chelan, Methow, Moses Columbia, Nespelem, Palouse, San Poil, Nez Perce, Colville and Wenatchee Bands.
The Museum Collection features numerous hand-woven baskets, beaded items, tools and carvings. The museum gift shop provides an outlet for local Indian artists and craftspeople. All merchandise available in the gift shop is related to Indian culture.